19-Inch Free Standing Cabinet - 6 Ft High, 36 Inch Depth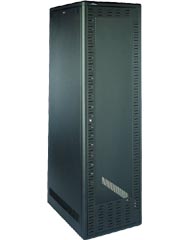 Manufactured By:
Rack Technologies a Superior Modular Products (SMP) Company.
All 19-inch free-standing cabinets feature four mounting rails, vented top with 3-inch-diameter cable entry points, quick-release locking vented sides, smoked plexiglas locking front door, solid steel locking vented rear door, leveling feet or locking casters. Includes #12-24 pilot-point combo-head screws.
Price does not include freight. Cabinets do not apply to $500 free ground freight policy.